In this article, you will find the latest offers of Farmfoods.
The frozen food retailer Farmfoods has more then 300 shops in the UK. The Farmfoods offer great food and amazing prices.
Let's look at the Latest Farmfoods Leaflet
Prices valid until at least 10 October 2022
12pk Rockstar Original/Sugar Free: £3.99
Large Yankee Candles: Mix any 4 for £40
Kingsmill Muffins/Pancakes/Crumpets: 39p each
500g Wikinger Bockwurst: £1.49
425g Fray Bentos Steak & Gravy Pie: £1.29
432g Hellmann's Mayonnaise: 99p
6pk Dairylea Dunkers Nachos: £1.49
2 XL Young's Gastro Dine Out At Home Cod/Haddock: £5.49 each
24 XL Farmfoods Mozzarella Sticks: £3.99
Pukka Steak Bakes & Sausage Rolls: £1.99 each
4pk Extreme Brownies & Cream Cones: 99p
465ml Ben & Jerry's Minter Wonderland: £1.49
650ml Lotus Biscoff Cake: 99p
85g Cadbury Darkmilk: 39p
8pk Ferrero Rocher: £1.99
160 + 50% Free PG Tips: 4 for £12
190g Douwe Egberts Coffee: Mix any 2 for £10
10L Vegetable Oil: 2 for £36
18pk Little Duck Toilet Tissue: 4 for £22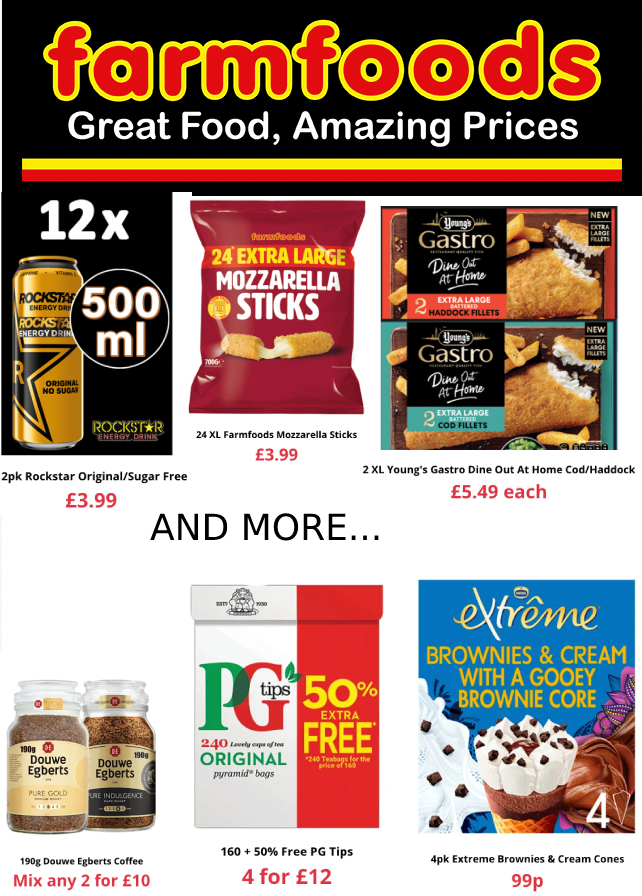 In order to subscribe and get offers & vouchers, you can visit the official page of Farmfoods.